The Special Assistant to the Ekiti State Governor on Public Communications and New Media, Lere Olayinka has described the Minister of Information and Culture, Alhaji Lai Mohammed as unfit to speak for any decent government, saying, "he speaks like a tout", Vanguard reports.
Olayinka, who reacted to statement by the Minister that Governor Ayodele Fayose and others kicking against President Muhammadu Buhari's Treasury Single Account policy should return to elementary school, said it was shameful that the Minister ran away from the main issue and chose to attack personalities.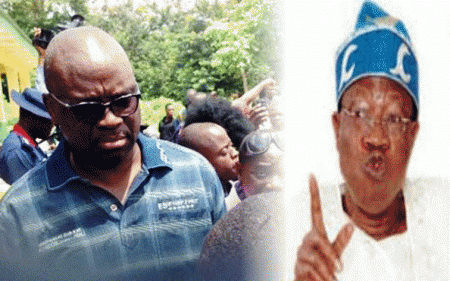 Olayinka said: "Now that Daddy Lai Mohammed has been elevated to the position of the spokesperson of the Federal Government of Nigeria, he needs to be purged of the APC basket mouth syndrome that made him to speak like a tout."
He advised President Buhari to urgently de-brief Lai Mohammed so that he will operate normally as a spokesperson of the government and not APC propagandist.
Olayinka said: "At 63, Lai Mohammed should know that speaking for the federal government of Nigeria is different from speaking for the APC, which he did by always tying corn to his anus while dancing naked at the market place.
"He should know that opposition is a major ingredient of democracy and any democratic government devoid of opposition must be ready to embrace anarchy.
- Vanguard News