Lagos-based lawyer, Ebun-Olu Adegboruwa, says he is withdrawing the suit he filed on Monday to challenge the continued detention of the National Publicity Secretary of the Peoples Democratic Party, Chief Olisa Metuh, by the Economic and Financial Crimes Commission,
PUNCH
reports.
Adegboruwa, who claimed that Metuh's arrest and detention was part of President Muhammadu Buhari's grand plan to silence the opposition, approached the Federal High Court in Lagos and asked that Metuh be immediately released from custody.
The lawyer had argued that Metuh's fundamental rights enshrined in sections 33, 34, 35, 38, 40, 41, 42, 43 and 44 of the Constitution were being violated.
But in a statement made available to PUNCH on Thursday morning, Adegboruwa, however, said he had reviewed the situation and had filed a notice to the court to discontinue the suit.
He explained that since filing the suit on Monday he had been inundated with calls from across the country by people who wondered whether he was against Buhari's anti-graft war.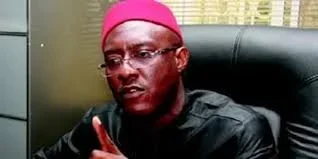 He, however, said he was not against the anti-corruption war but only that it must be fought within the ambit of the rule of law.
"I filled the suit in consonance with his unwavering belief that the rule of law must be obeyed, adding that he had neither never met Metuh before nor received instruction or money from him to file the suit", he said.
The statement read in part, "Since filing this suit, I have received several telephone calls from colleagues, friends and well wishers, some congratulating me for the 'fat' brief, some criticising me, some seeking explanations and some others commending and encouraging me.