Investigations have revealed that major roads linking different parts of the country are in a sorry state and this has continued to expose the citizens to all kinds of hazards and trauma.
According to the Association of Luxury Bus Owners of Nigeria, which recently expressed worry over the deplorable state of the highways, identified 10 major roads in dire need of rehabilitation or reconstruction
The transporters Chairman, Dan Okemuo, lamented the heavy toll that the bad roads was taking on vehicles and their owners, including high maintenance costs, loss of man-hours and endangering the lives of road users.
These, it said, had resulted in many transporters dropping out of the business, while new investors were scared of coming in.
They called on the new Minister of Power, Works and Housing, Mr. Babatunde Fashola, to urgently fix the roads.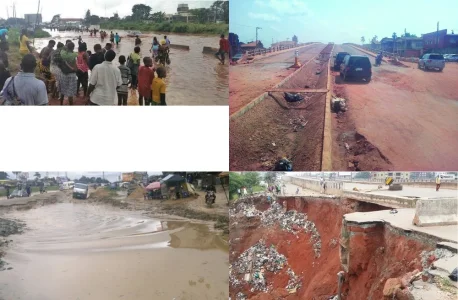 Lussada/Igbesa Free Trade Zone road in Ogun State
Omotosho to Ijebu Ode (in Ondo and Ogun states)
Agbara/Atan road (Ogun State)
Papalanato/Sagamu road (Ogun)
Ubiaja-Uromi road (Edo) leading to Abuja
Oyigbo/Aba-Port Harcourt road
Ikot-Ekpene/Itu/Odukpani/Uyo-Calabar road
Ikwuano/Ikot-Ekpene road connecting Abia and Akwa Ibom states
Umuapu/Ohaji road connecting Owerri to Port Harcourt
Umagwu road in Imo State connecting Ihiala (Anambra State);
Enugu-Onitsha Expressway
Jebba/Bodesadu Road, a major road in the northern part of the country linking the South-West
Itu/Calabar road
Akpabio/Bakasi road
Agbara/Atan-Igbesa road in Ogun State
25km Sagamu/Ogijo/Mosimi/Ikorodu road
Source:
PUNCH