Human rights lawyer, activist, Femi Falana (SAN) has once again vented his frustration with the sorry state of the nation, especially concerning the spate of insecurity sweeping across different regions.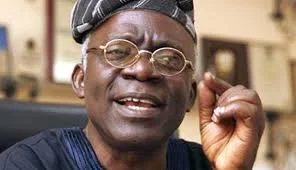 Below are the 7 salient points from Falana's explosive interview on Channels television on Monday, May 09, 2016.
1. Inspector General of Police is incompetent: Femi Falana accused the IGP, Solomon Arase of incompetence on the handling of the Fulani herdsmen. He said it left much to be desired that the IGP had to wait for a presidential order before taking action after scores of local residents were killed in the recent Fulani herdsmen attack in Ukpabi Nimbo community in Uzo-Uwani local government area of Enugu state.
2. The Police is understaffed: He also opined that the Nigeria Police lacked the capacity to effectively police 170million people with just 130,000 men.
3. 162 police officers guarding a governor is too much: According to Falana, Nigeria "used to have 300 policemen guarding a Governor, now Police assigns about 162 officers to guard each State Governor". For a police that is already understaffed, that figure is still too much.
4. Ex-commissioner of police, Enugu, Nwodibo Ekechukwu deserves some punishment: He said that the transfer of the ex-police boss in the state is not enough as the community had alerted the governor who then alerted the commissioner of police but failed to take actions. He further said that all heads of security agencies- commissioner of police, Director of state security service and Army commander in Enugu were guilty of security negligence and should be dealt with accordingly.
5. The Police constantly engages in extra judicial killings: Femi Falana alleged that the police was regularly engaged in outright killings of armed robbery and kidnap suspects after parading them to the media. He said, "What happens to armed robbery suspect and kidnap suspects after the parade? They are simply extra judicially executed. I go to court regularly; I cannot remember when last armed robberies were brought to court. In 2014, 532 armed robbery and kidnap suspect were paraded all over the country and I went to the police to get the court were these criminals were being arraigned but I got no response," Falana said.
6. State governors should fight for State Police: Falana said it was high time the 36 state governors challenged the federal government over the centralized policing in Nigeria. "The FG has violated the constitution; what I mean is section 214 of the constitution provides that there shall be only one police force in our country that shall bear arms but over the years, all other paramilitary force carry arms. "There is no way you can police over 170 million Nigerians with one police force. The federal police will deal with federal offence, the state police will deal with state offence. Even local government can have police.
7. Chief of Army Staff, Buratai should mind his business: In a clear attack on the Chief of Army Staff, Falana said Nigerian army has no business with internal security unless in dire situations. He also said Buratai has no moral right to harass Nigerians and teach on how to protect lives and properties in Enugu after it allegedly killed and buried Shi'ites in Kaduna state last December.