Africa trails just behind Asia as the most Populous Continent in the World with a staggering population of over 1.1 billion people living in this large continent. Boasting of an enormous diversity of ethnicities, languages, cultures and tradition. She has witness some of the bloodiest uprisings in the world yet its generally peaceful in the most part.
The IEP's Global Peace Index 2015 listed a disturbing trend with the peaceful countries getting increasing peaceful and the conflicted countries gradually spiraling out of control.Only 4 African countries made it to the top 50 most peaceful nations in the world, with Iceland being the most peaceful nation in the world.
Below are the top 10 most peaceful nations in Africa as extracted from the IEP Global Peace Index 2015.
Here is the list of the TOP 10 Most Peaceful Countries in Africa:
10.
TANZANIA
The only east African country in the top 10 most peaceful nation in Africa Tanzania is a one party dominant country.its legal system is based on English common law.Tanzania is highly biodiverse and contains a wide variety of animal habitats having a total of 16 national parks excluding games and forest reserves.
9.
LESOTHO
LESOTHO runs a parliamentary system of government. the country possesses one of the best civil liberties in Africa.Lesotho does not have a single code containing its laws.Lesotho is geographically surrounded by South Africa and economically integrated with it as well.according to recent estimates, 85% of those older than 14 are literate, which makes Lesotho one of the most literate countries in Africa..
8.
SIERRA LEONE
SIERRA LEONE is a country in West Africa.She gained her independence in 1961 and fell into a civil war from1991-2002.despite the Ebola outbreak which claimed over 3000 lives in sierra leone, she still ranks as the 8th most peaceful nation in Africa.
7.
ZAMBIA
If you have heard about the Victoria Fall and The Zambezi river, Chances are you didn't know this wonders of Nature were located in Zambia.Located in southern Africa, Zambia has a population of 15 million people.in 2010, the World Bank named Zambia one of the world's fastest economically reformed countries.
6.
GHANA
GHANA is a unitary presidential constitutional democracy. the 2008 GPI survey noted Ghana as the most peaceful nation in Africa. It was also the first black African nation in the region to achieve independence from a colonial power, in this instance Britain.Ghana has a high-profile peacekeeping role; troops have been deployed in Ivory Coast, Liberia, Sierra Leone and DR Congo
5.
MALAWI
Malawiis a country in southeast Africa that was formerly known as Nyasaland. The country is also nicknamed "The Warm Heart of Africa.Malawi is a democratic, multi-party government, currently under the leadership of Peter Mutharika, who defeated former president Joyce Banda in the 2014 elections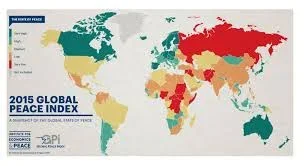 4.
SENEGAL
SENEGAL has been held up as one of Africa's model democracies. It has an established multi-party system and a tradition of civilian rule;her independence was in 1960.the IIAG 2014 ranking placed Senegal as the 9th best governed country in Africa. Senegal is named after the Senegal River and French is the official language of Senegal..
3.
NAMIBIA
NAMIBIA is the 3rd most peaceful nation in Africa. its home to the fastest land animal in the world, the Cheetah. It was formerly known as South West Africa. It gained independence from South Africa on 21 March 1990.The name of the country is derived from the Namibia Desert, considered to be the oldest desert in the world.Namibia does not have any enemies in its region and Its economy is tied closely to South Africa's due to their shared history.
2)
BOTSWANA
BOSTWANA Is a Country in Southern Africa, with landmarks like the Kalahari desert, Botswana boast of homes for endangered wildlife like the Black and White Rhino..In 2013, Positive Peace Index had ranked Botswana the best governed country in Africa. In 1960, Botswana used to be one of the poorest nation in the world but currently ha s one of the highest GDP in Africa. The nation's competitive banking system is one of the best and most advanced in Africa.
1)
MAURITIUS
MAURITIUS is the most peaceful nation in Africa for 3 years in a row. Thisvolcanic island nation has positioned itself as a trusted nation in terms of estate planning and wealth management. its well known for its beaches, lagoons and reefs and an excellent tourist reserve. People of Mauritius are multi ethnic and multicultural. Many people in Mauritius are multilingual. The nation is ranked highly by many experts for democracy and economic and political freedom. Elections are held once every five years.