A Nigerian man physically fights and kills a "demonic" cat in Osun State that fell from ceiling right inside his parlor and attacked him in the middle of the night
According to The Lord's Chosen Charismatic Revival Ministries page;
"I FOUGHT WITH DEMONIC PUSSYCAT PHYSICALLY AND KILLED IT, FROM OSUN STATE CHOSEN HEADQUARTERS.
Bro Paul Ogin, who joined Chosen in the year 2011 is returning all glories to the only good God of the ages, the God of seasons, the precious daddy, the God of the Chosen, baba Ijesha, for exposing enemies purported plans in his life and that of his families.
Our brother testified that last Saturday's night was a night of divine encounter between the gates of hell and the powers of old.
According to him, at about the midnight hours of Saturday, he choose to make supplications to God and to hand over his new apartment to the glorification of the name of the most high God.
After about awhile, when the spiritual affairs became hot for the dwelling of the devil and his agents, he suddenly started hearing some strange sound like that of the popular Nightingale demonic bird.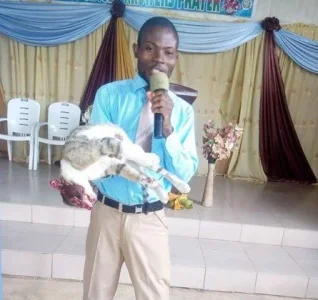 READ MORE HERE