A Malaysian Airlines pilot contacted air traffic control - after realising his passenger jet was going in the wrong direction 8 minutes after take off during a Christmas Day flight from New Zealand.
The pilot queried his route minutes after take-off when he became concerned flight MH132 was heading towards Melbourne, Australia and not taking a more direct flight to Kuala Lumpur.
He then turned the Airbus A330 northwest across the Tasman Sea towards the Malaysian Capital.
The pilot first contacted Airways - New Zealand's air navigation provider - eight minutes after leaving Auckland.
According to the New Zealand Herald, passengers on board the flight, which took off at 2.23am on Christmas morning, were not made aware of the pilot's discussions with air traffic controllers.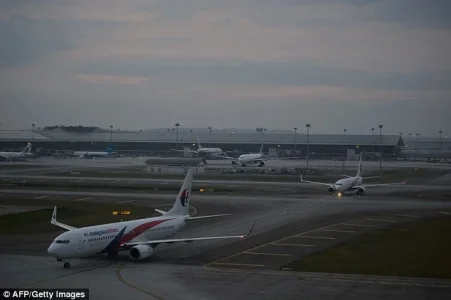 A spokeswoman with Airways told the Herald that a safety team will be investigating.
During their contact with the aircraft, Airways told the pilot about the flight plan they had been given by his airline.
'The flight plan the airline filed with us was going to Kuala Lumpur but via a slightly different route than the pilot was expecting,' the spokesman said.
Planes sometimes travel across the south of Australia on the way to their destination to avoid head-winds, New Zealand aviation commentator Peter Clark said.
'The pilot was probably not used to going that far south,' he said.
'The pilot has done a very good job by noticing it, querying it and not just blindly flying off and ending up in the Southern Ocean.'