Lawal Kazeem, 29, has been rounded up and arraigned before Isolo Magistrate court for allegedly brutalizing his female co-tenant, Ebere John for wasting time in their toilet.
The incident reportedly happened at Ago Palace in Okota area of Lagos where both the suspect and the victim's family reside.
Ebere was 'brutalized' after she went to the only public toilet in the compound and wasted too much time while other tenants including Kazeem were waiting for her.
In his statement, Kazeem said: "Whenever the victim enters the toilet, she will stay there for more than an hour and other tenants who will want to use the place before hurrying out to work will be waiting and wailing"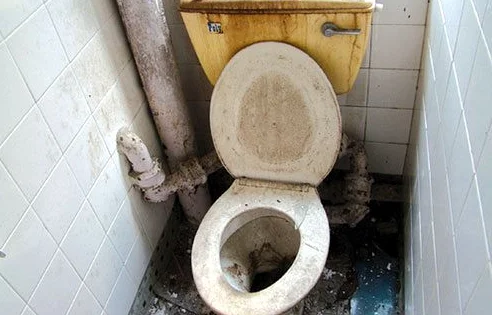 As Ebere entered the only toilet in the compound and was there for over an hour while other tenants waited endlessly outside, pleading that she come out in time, but replied them that she had not finished.
As she finally stepped out, there was confusion among other tenants who will first make use of the toilet.
It was amid the confusion that Kazeem pounced on Ebere, beat her mercilessly and blamed her for causing the problem among tenants.
Ebere was badly hurt, with her eyes affected and was taken to a nearby hospital for treatment.
The matter was reported to the Police at Ago Division who arrested Kazeem and charged him to court for the assault.
He pleaded not guilty. The presiding Magistrate, Mr A.O. Ogbe granted Kazeem bail in the sum of N50,000 with two sureties in like sum. The matter was adjourned till 27 July 2017.
He was remanded in prison custody pending when he will perfect his bail condition.