A thirty-four-year old man, Kingsley Agbini, has developed stroke after he allegedly raped his wife's niece, simply identified as Comfort in his house at Agbarho Community in Ughelli North Local Government Area of Delta State.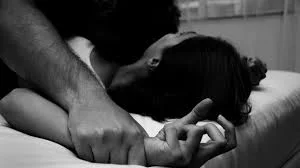 Agbini who is still recuperating from his stroke has admitted to committing the offence, stating that he developed stroke after his escapades with Comfort on 12 December, 2016 was brought to the knowledge of his wife.
Agbini said, "It was a strong temptation that made me rape my wife's sister. "
Agbini whose wife, Grace has packed out of his house with his ten-month-old daughter as a result of the ugly incident is pleading for her return for settlement saying," It was a temptation. I don't understand."
It was gathered that Kingsley Agbini had consistently raped the fifteen year old girl without the knowledge of his wife, Grace, a petty trader.
Trouble started for Kingsley Agbini after he last raped the girl on the 12th of December, 2016.
Pained by the ugly incident, Comfort informed some elderly people who later disclosed the development to her aunt, Grace at their No. 4 Andrew Obire Compound in Agbarho.
The incident made Grace who is now staying with a friend in Effurun to pack out of her hubby's house.
She also demanded that the husband allow her pack her belongings but Kingsley insisted and allegedly threatened to kill her.
Grace, 28 years old reported the matter at Police Station in Agbarho for fear of not being killed.
Grace who now has a ten months old baby, Michelle for her husband after their two year-old-marriage told the police that she delayed as a result of threats from Kingsley.