An unidentified man has died during a marathon sex with a sex worker in a hotel named Morak, situated at Ago Wande area of Osogbo, Osun State on Saturday, Tribune reports.
A source told the newspaper that the deceased must have died due to excessive sexual intercourse with the prostitute before.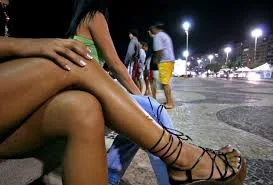 The death of the deceased has made the hotel manager and other commercial sex workers to desert the premises while police investigation into the matter has already begun and the hotel shut down.
A source said, "I was in my shop late that Saturday and before I left, many vehicles were parked near the brothel, but that did not raise any concern.
"When I resumed the next morning, I noticed that the brothel was virtually empty. There was no sign of life there at all. The entrance door was shut but door to the bar was slightly opened. Unknown to some of us, some of the occupants of the house confided in their friends about what happened before they ran away.
"Later around noon, policemen came and evacuated the body of the man. We were told his wife was among those that came with the police when the corpse was evacuated. But no one could identify the man in our area. His car was also taken away by the people that came with the police."
Meanwhile, the State Police Public Relation Officer, Mr. Kola Shodipo confirmed the tragedy and has ordered his men to investigate the incident.