Founder of the Movement for the Actualization of Sovereign State of Biafra, MASSOB, Ralph Uwazuruike has said that MASSOB would celebrate its 17 years of non-violent agitation for independence of Biafra in all the senatorial districts across the Biafra land, which include South-East and Niger Delta areas.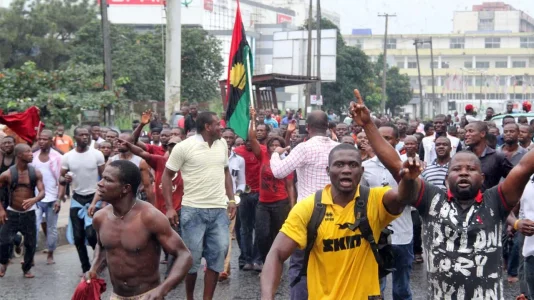 The celebrations is expected to take place on Tuesday, September 13.
Prayers would be offered through a non-denominational church service in the morning, while a peaceful procession by MASSOB-BIM members follows later in the day.
In a press statement issued by the Director of information, Mazi Chris Mocha, Uwazuruike expressed satisfaction that MASSOB-BIM had never recorded any proven incidence where violence was traced to the organization.
He insisted that the group adopted the principle of non-violence and non-exodus to guide the struggle and to avoid jeopardizing the huge investments of Ndigbo in Nigeria.
He said, "On, 13 September 13, 1999, following the formal inauguration of MASSOB on September 9, 1999, by the Igbo National Council of Chiefs, the movement embarked on its first public rally in Lagos which was of course based on the principle of non-violence and non-Exodus."
The statement quoted Uwazuruike as saying in a meeting he held with MASSOB/BIM leaders at Ojukwu Memorial Library (auditorium), New Owerri, Imo state capital that he wished himself, "the National leader of MASSOB, Chief Solomon Ordu Chukwu and the emerging new Biafra Republic long life and a happy celebration."