The Movement for the Actualisation of the Sovereign State of Biafra, MASSOB, Saturday, pledged total allegiance to the Niger Delta Avengers and other pro- Biafra groups from the Niger Delta region.
The Avengers, a militant group, has been claiming responsibility of series of bombings in the Niger Delta.
It has also been making demands for the release of Radio Biafra Director and leader of IPOB, Mr. Nnamdi Kanu.
In a statement signed by the national leader of MASSOB, Comrade Uchenna Madu, he stated that MASSOB was glad that the Avengers had been consistent in the struggle for the liberation of Biafra.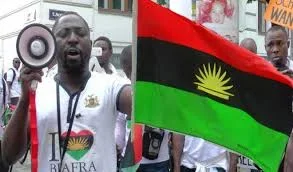 "The consistency, selflessness and pragmatism of these Biafra warriors gladdens our hearts.
"It shows and proves the positiveness and acceptability of Biafra by our brethren across the Niger. It also rubbished the earlier diversionary, cowardice, stupid and negative comments or statements and position of some leaders of Ethnic nationalities of the South South who are brainwashed by Hausa Fulani Yoruba oligarchies against Biafra", he declared.
Madu further stated that "the activities of the current Niger Delta Warriors is a natural confirmation that Biafra stretches towards the gulf of Guinea. The natural inhabitants and indigenous people of these lands are Biafrans by birth but Nigeria by citizens.
READ More:
DailyPOST