Nigeria -
Over 22 people were on Friday injured and one house burnt down as some youths claiming to be members of Jama'atu Izalatul Bidia wa Iqamatus Sunnah (JIBWIS) clashed with members of the Shiite Islamic group around Gangare community in Jos North Local Government area of Plateau State.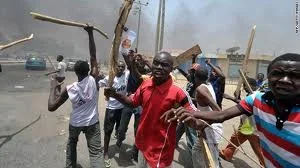 Reports say tension had been brewing between the two groups since Thursday evening, climaxing in the clash on Friday.
According to a resident of Gangare and youth leader, Abdullahi Baba, the genesis of the clash started from a social media site Facebook where two unidentified youths from the two groups insulted one another over disagreement on the right way to mark the Tasu'a and Ashura (9th and 10th) days of Muharram (Islamic new year). The argument had resulted in a minor clash at Gangare, when police arrested four persons and charged them to court on Thursday.
Baba said, the incident created tension in the area, while some irate youths who participated in the clash came back to take revenge the following day.
The house of the Shiite commander (Huras) in Gangare, Idris Muhammad, was burnt down Friday night by irate youths, before the presence of security agents and vigilantes in the area had calmed the situation.
The state Commissioner of Police, Adekunle Oladunjoye,who assumed duty on Friday, also held meetings with leaders of the two groups to broker peace.
Daily Trust