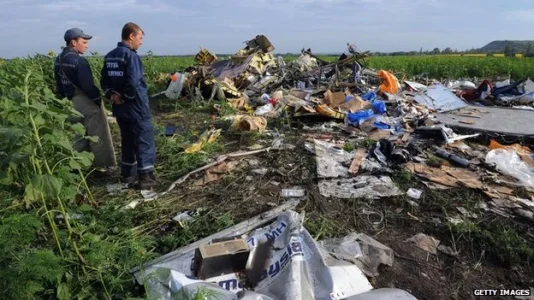 Outraged world leaders on Sunday heaped pressure on Russia to press Moscow-backed rebels in eastern Ukraine to allow investigators proper access to the crash site of the Malaysian MH17 jet.
''He has one last chance to show he means to help,'' said Dutch Prime Minister Mark Rutte minutes after what he described as a ''very intense'' conversation with the Russian leader.
He added that the leaders of Germany, Britain and Australia shared his view.
Rescue efforts were in disarray as armed gunmen in fatigues and balaclavas refused to allow international monitors full access and the grisly remains of some of the 298 passengers killed have yet to be removed.
Ukraine has warned that the rebels, who Kiev and the US have accused of blowing the plane out of the sky with a missile, were "hours away" from removing key evidence across the Russian border.
Read more at
Vanguard
,
BBC News
,
Stuff.co.nz