Suspected militants have attacked the headquarters of the Marine Police in Iwopin, in the Ogun Waterside Local Government Area of Ogun State, killing a sergeant and injuring at least two others.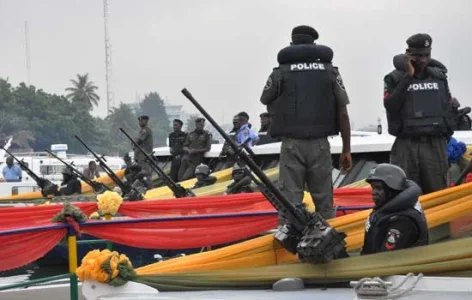 The assailants were alleged to have looted the police armoury, and carted away weapons, including a speedboat.
Punch reports that the deceased cop, Sergeant Segun Akinola, and his colleagues were on duty around 8.45pm on Thursday when the gunmen struck.
A source in the community told Punch correspondent that the policemen, who were ill-equipped, were caught unawares.
He said, "Around 8.45pm, the militants entered the community through the waterways. They got down from their boats and started shooting indiscriminately.
"When they got to the Marine Police Station, they shot the Sergeant dead. They wounded two others before entering into their armoury and carting away weapons, including a speedboat.
"They left after the operation which lasted about one and a half hours in the place. They didn't have any disturbance or confrontation throughout the period. They later escaped through the waterways."
A community leader, who did not want to be identified, said the attack was a reprisal for the arrest and killing of a militant.
Punch had reported about two weeks ago that the gunmen raided the home of a businessman in the community and carted away huge sums of money and other property.
The spokesperson for the police in Ogun State, Abimbola Oyeyemi, confirmed the incident.
He said, "They attacked the marine station at Iwopin. The commissioner of police visited the place on Friday to assess the situation and see things for himself. He was there with the deputy commissioner of operations to reinforce security. Special units have been deployed in the area to provide security for lives and property."