Millions of barefoot devotees on Monday joined the largest religious event in the Philippines to honour a centuries-old statue of Jesus Christ despite warnings that Islamist extremists might attack the gathering.
Thousands of police officers and soldiers were deployed to guard the feast of the Black Nazarene in central Manila, the highlight of which is a day-long procession that traverses nearly six kilometres.
The US, Britain and Australia warned their citizens to stay away from the procession after authorities said extremists who pledged allegiance to the Islamic State might retaliate for the killing of a leader last week.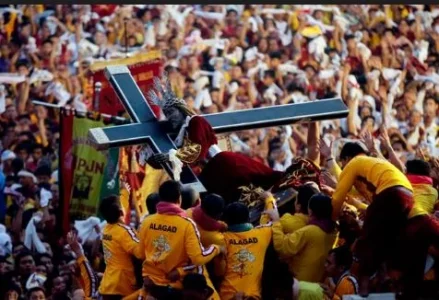 The threat, however, did not stop the huge crowd of people from coming out into the streets to offer prayers to the Black Nazarene, which is believed to be miraculous.
"The Poon will protect us," said Eric Salazar, 46, referring to the Black Nazarene with the name used by devotees. "He will not allow anything bad to happen to us because of our devotion."
Salazar, who has been a devotee since he was a child, came to the procession with more than a dozen neighbours.