The Nigeria Labour Congress (NLC) has said it is putting all its state councils and industrial union affiliates at full state of alert to ensure that they respond speedily and promptly to any action of the governors to carry out their decision to reduce the minimum wage.
Governor of Zamfara State, and chairman of the Nigeria Governors' Forum, Abdulaziz Yari has restated the determination of the governors to go ahead with the reduction of the national minimum wage or in the alternative embark on massive retrenchment of workers.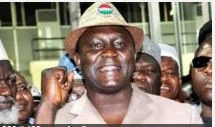 NLC president, Ayuba Wabba in a statement yesterday said by Yari's reaction, congress is convinced that he is still holding on to his earlier argument that due to the fall in the price of crude oil at the international market, state governments are no longer in the position to pay the legal minimum wage to their workers.
He stated, "The Nigeria Labour Congress (NLC) wishes to categorically affirm that the path our governors are headed can only lead to one outcome: a head-on collision with Nigerian workers and Nigerian people!"
He cautioned the governors not to engage in mass sack of workers in the states, saying it will throw the already beleaguered country into industrial disharmony and chaos either now or in the New Year.