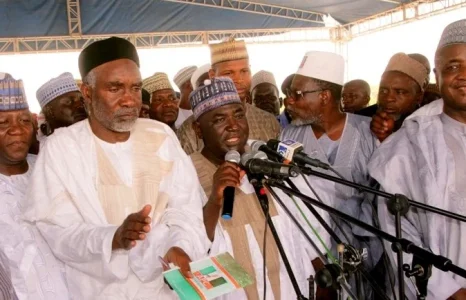 Mixed reactions on Wednesday trailed the impeachment of Gov. Murtala Nyako by the Adamawa House of Assembly.
The News Agency of Nigeria (NAN) reports that the lawmakers had on Tuesday impeached Nyako over alleged financial misconduct and gross abuse of office.
Some prominent lawyers in Lagos, who spoke to NAN, described the impeachment as unconstitutional, while others supported the action of the legislators.
Mr Onyekachi Ubani, a former Chairman, Ikeja Branch of the Nigerian Bar Association (NBA), said there were several issues with the Nyako's impeachment.
Ubani said:``First, the impeachment notice was never served on him personally.
``The Supreme Court has held that anybody going to be impeached as a governor must be served with the impeachment notice in person.
``Also, there was an injunction against the constitution of the panel and the panel itself did not serve any notice on Nyako to appear before it."
He advised that the governor should explore legal options for his reinstatement, adding that the issue of procedure was sacrosanct in impeachment proceedings.
Another lawyer, Mr Adebamigbe Omole, said the panel which investigated Nyako's alleged offences was unconstitutional.
``There was a court injunction against the constitution of that panel which was never vacated.
``I am certain that if Nyako goes to court the impeachment will be upturned, but unfortunately he only has a few months to the expiration of his tenure and he might be out of time,'' he also told NAN.
However, a law teacher, Mr Gbenga Ojo, believed that the governor's removal was in order because the court could not interfere in impeachment proceedings.
Ojo, who is of the Faculty of Law, Lagos State University (LASU), said the Adamawa legislators formed a quorum required to impeach Nyako.
He said:``As long as the legislators are able to meet the required number of members and the impeachment is done in the parliament, I do not see any court that can upturn it.
``The case of former Oyo State Governor, Rasheed Ladoja, is different from that of Nyako.
``The impeachment was upturned by the court because the lawmakers were not able to get the number required by law before going ahead with their plan."
Also commenting on the development, a lawyer and public affairs analyst, Mr Jiti Ogunye, said Nyako's impeachment should serve as a lesson to other governors and those in authority.