Ahead of January 14 comeback of the popular Ponzi scheme, MMM Nigeria and the introduction of Bitcoin into the system, subscribers are skeptical about the unfrozen of their Mavros.
MMM in a message posted on social media at the clock of the New year directed its subscribers to performed massive campaigns both online and offline, which is expected to promote the scheme and drive "traffic and participation" by the time the handlers lift the freeze on January 14, 2017.
Many of the participants are still wondering if the system will come back as stipulated despite the aggressive campaign currently going on the social media.
Meanwhile, in one of the campaigns posted on MMM Nigeria Facebook page, a subscriber of Ultimate Recyclers who posted how the Ponzi system works was quickly attacked and discard by an annoying MMM subscribers, calling the scheme a '
scam programme'
.
See discussion below: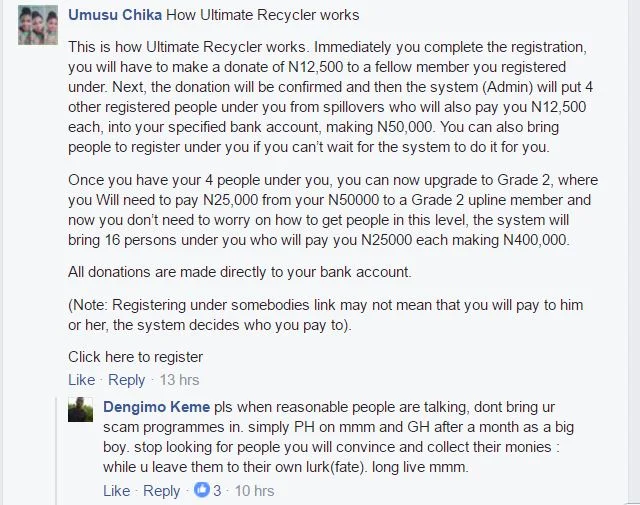 Related: MMM Nigeria Introduces Bitcoin Ahead of January Relaunch
On the introduction of Bitcoin, here are what the Mavros are saying: