Tragedy struck Thursday evening when an unknown motorist knocked down a masquerade along and-run along Nwaniba Road, by Use Offot, Uyo.
The masquerade known as 'ekpo' in local parlance is reportedly died instantly while his lifeless body laid on the tarred road.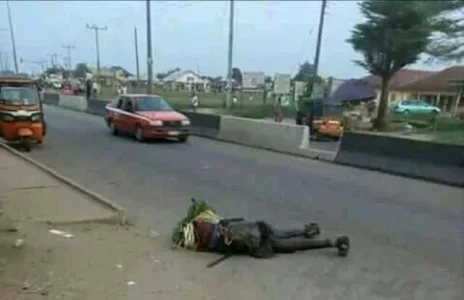 The Nation gathered that the unidentified driver was on high speed making it difficult for him to avoid another vehicle when he suddenly hit the masquerade.
A resident of the area, Ukpe Eno, said he would have been hit by the vehicle safe for the lift to the other side of the road.
He said it was unfortunate that the masquerade was taken by surprise as he could not make such a lift owing to the mask on his face.
"If not God, I too would have been a dead man by now. The vehicle was on terrific speed. The road is barely two lanes and cramping; and if you look at it well, it is not where somebody is supposed to drive at 60 kilometres per hour, but here you see people driving at 100 and 120kph.
"I think it is high time government started marking roads in the state with appropriate speed limits," he said.
The remains of the masquerader, whose identity has yet to be ascertain, was found lying on Nwaniba Road, Uyo.
However, the Commissioner for Communications and Strategy, Mr. Charles Udoh, expressed sadness over the incident.
According to him, he had sent people to the place, where his corpse had been removed. He noted that they were still on the trail of the identity of the masquerader and his relatives.
The Police Public Relations Officer in the state, DSP Bala Elkana, said though he saw the masquerade lying on the ground through social media, the matter has not been formally reported