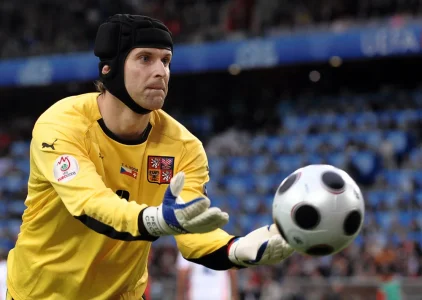 Chelsea manager Jose Mourinho is expected to name his first choice between Thibaut Courtois and Petr Cech during his meeting with his players on Sunday.
Mourinho is in a dilemma over which goalkeeper to choose but the Portuguese noted that it has not been an easy decision for him.
Both keepers are battling to be Chelsea's first-choice goalkeeper this season and Mourinho has hailed the pair as 'two of the best three goalkeepers in world'.
He however noted that he will try to give any of the keeper that drops down to number two,games,not just the Carling Cup,in order to keep him competitive.
"During the season if one is first choice, I have to stimulate the other one. I cannot have one of these two incredible goalkeepers on the bench waiting for a Capital One Cup game. I have to stimulate the competition and praise the top goalkeeper who is not my first choice. [Otherwise] the best way for me work is to think in a pragmatic way. Forget all the emotions around the situation and just decide what I think is best for the team.
"It is not easy. No manager is happy to see a player who is not in a happy or comfortable situation. It is not easy for me. I like to see happy people. I am not happy when people are not happy. I can understand for a top goalkeeper who can play in any club in the world … one of them is going to be on the bench.
"For Chelsea it is a great situation. For me as a manager thinking in a pragmatic way it is to have the best goalkeeper on the field."
With the two goalkeepers having just two years left on their contract, and speculation have been rife whether any one of them will remain at Chelsea if dropped to the bench.
But Mourinho said: "And vice versa, if Petr plays, Courtois could think about leaving. At the moment they are working well. We are so happy to have them both. I prefer to analyse it from that perspective."
Chelsea's first game of the season is on Monday when they take on newly promoted Burnley.
Last edited by a moderator: