Spokesperson to controversial governor of Ekiti State, Mr Lere Olayinka has lashed out to Nigeria's Health Minister, Prof. Isaac Adewole for faulting the research done by one Prof who claimed he's found cure for HIV/Aids.
Olayinka who wrote this on his Facebook timeline said:
''Mr Health Minister, are you the one madding mad or mad is madding you?
Should not obtaining your stupid permit before carrying out the research be the issue or the effectiveness of The drug?
I understand your plight and those of your vampires in the health ministry anyway. The moment there is a drug that can cure HIV/AIDS from Nigeria, all those WHO grants on HIV/AIDS prevention will stop.''
Recall that Prof. Isaac Adewole, on Wednesday said it had been established that the experiment carried out by a professor of veterinary medicine and clinical virology was illegal.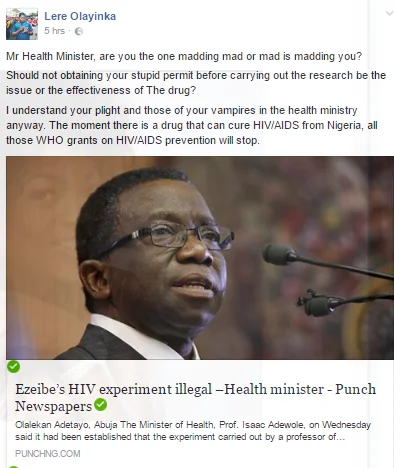 Prof. Maduike Ezeibe of Veterinary Medicine and Clinical Virology Department, Michael Okpara University of Agriculture, Umuahia, Abia, was reported to have developed a drug that eliminated the deadly virus in some patients.
Ezeibe claimed that the drug, which was produced with "Aluminium Magnesium Silicate", had the clinical ability to "reach all cells'' and make HIV "a conquered organism".