As many as 250 people are feared dead after a massive mudslide swept over a fishing village in the Democratic Republic of Congo, as the government came under fire for its slow response.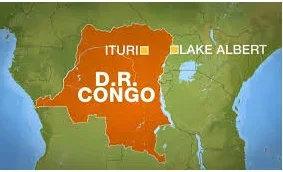 The search for survivors has been called off after last week's disaster, which devastated Tara, a fishing village on the shores of Lake Albert on the country's northeastern border with Uganda.
Pacifique Keta, deputy head of Ituri province where Tara is located, said the death toll was now between 150 and 250, with many still buried under the rubble of an estimated 48 destroyed homes.
The civic movement Struggle for Change (Lucha) accused the government of failing to act quickly enough after the disaster hit on August 16.
"Some of the people among the disappeared could have been saved if government intervention had been rapid," Lucha said in a statement.
It added that President Joseph Kabila, who only issued a statement of condolence six days after the disaster, should have gone to Tara to console the families of the victims.
Interior Minister Emmanuel Ramazani Shadary only travelled to the province on Thursday on "a mission of humanitarian assistance".
Keta told AFP that the search for bodies was suspended to prevent the spread of disease to other fishing villages on the lake.