Muhammad Ali was an American professional boxer, generally considered the greatest heavyweight in the history of the sport.
As the news of the death of the GREATEST of All Time, Muhammad Ali flows across the world.
Here are 10 greatest things that happened during the lifetime of the greatest.... Muhammad Ali
- Ali had a show-time personality, dazzling footwork and great hand speed that combined to make him a champion like his sport had never seen. His career record was 56 victories, 37 of them by knockout, and five losses. He held the world championship an unprecedented three different times.
- Fighting under his given name of Cassius Clay, he won a gold medal in the light heavyweight competition at the 1960 Olympics in Rome. In a 1975 autobiography he said he threw the medal into a river one night after being refused service in a Louisville restaurant and being harassed by a gang of whites. Two biographers, however, said Ali actually lost the medal unintentionally.
- His first professional fight was a six-round decision in 1960 over Tunney Hunsaker, whose day job was police chief of Fayetteville, West Virginia. Ali and Hunsaker became friends and Ali wrote in an autobiography that one of the hardest body blows he ever received came from Hunsaker.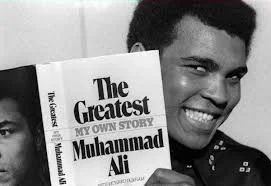 - After Malcolm X helped Ali become a member of the Nation of Islam, he dropped his given name in favor of Cassius X. Malcolm X later split from the church in a dispute but the fighter stayed on and changed his name to Muhammad Ali, which Nation of Islam leader Elijah Muhammad said was his "true name."
- Claiming conscientious objector status, Ali refused to be inducted into the U.S. Army in 1967. He was sentenced to five years in prison, lost his title and could not get a fight at a time when he was in his athletic prime. He never went to prison while his case was under appeal and in 1971 the US Supreme Court overturned the conviction.
- In 1984 Ali was diagnosed with Parkinson's syndrome that apparently was linked to his career. It left him slow, shaky and unable to speak much above a whisper but close associates said he never lost his sense of humor or zeal for his faith.
- Ali, named the top sportsman of the 20th century by Sports Illustrated magazine, met world leaders such as Queen Elizabeth, Nelson Mandela, Pope John Paul II, Fidel Castro and Saddam Hussein. He was given a Presidential Medal of Freedom in 2005.
- The US Army measured Ali's IQ at 78. In his autobiography he said, "I only said I was the greatest, not the smartest."
- Muhammad Ali was not only a boxing champion, he was a championship talker. Following are some quotations from Ali:
-
"Float like a butterfly, sting like a bee."
- "It's just a job. Grass grows, birds fly, waves pound the sand. I beat people up."
- "Boxing is a lot of white men watching two black men beat each other up."
- "At home I am a nice guy but I don't want the world to know. Humble people, I've found, don't get very far."
- "I've wrestled with alligators. I've tussled with a whale. I done handcuffed lightning, and throw thunder in jail. You know I'm bad. Just last week, I murdered a rock, injured a stone, hospitalized a brick. I'm so mean, I make medicine sick.
"