A 15-year-old girl, on Thursday shared her rape story at the Ketu Police Station in Lagos state.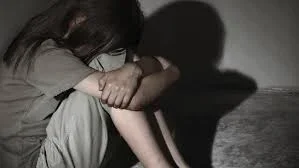 The girl alleged that her 42 year-old father simply identified as I.D Idowu raped her several times after her mother and elder sister left home.
Vanguard reports that the suspect's wife left her matrimonial home two years ago when she discovered that her husband was sleeping with their 17-year-old daughter. Her husband was said to have insisted that she left without either of their three children, all girls, who were aged 17, 13 and eight, respectively. The eldest child, unable to bear the abuse, left their Ketu home, abandoning her siblings to their fate.
The rape would have gone unnoticed had the teenager not confided in a curious neighbor who in turn got the police involved.
"My father started sleeping with me two years ago, while I was 13 years. The first time he came, he gave me N500 and forced himself on me,'' the girl said,
"After that day, I did not allow him to touch me again. The second time he did it, he gave me N500 again. He usually comes to me in the day and night. So far, he has had sex with me three times and usually gave me N500. I rebuffed him several times."
When the suspect was interrogated, he denied, describing his child's claim as false. Rather, he claimed that his daughter fabricated the lie because he scolded her. But the victim interrupted him, saying "Daddy, why not tell the truth. You know you are lying. You have slept with me three times."
The teenager was handed over to the Mirabel centre for check-up. Meanwhile, the Commissioner of Police, Lagos State Command, Fatai Owoseni, who confirmed the arrest, said the father will be charged to court soon.