The Emir if Kano has reacted to claims that he aided the purported abduction of Ese Oruru by one Yunusa.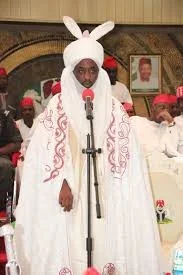 Addressing a Press Conference in Kano on Monday, the Emir said, ''Since September last year, the district head of Kura came to palace with a young girl of about 15 years, alongside with somebody from the area, whom we were told was married to him after she was converted to Islam.
''I ordered for her immediate repatriation to her parents who were said to be in Bayelsa state. I ordered the Kano State Shariah commission to liaise with the assistant inspector general (AIG) zone 1 to assist in taking her back to her parents in Bayelsa, through the AIG who oversees Bayelsa axis, for her safety. In Islam, she has no right to just go ahead and decide things for herself. She is still young. She is not matured enough. And there is nowhere in Islam where such young girls can just make up their mind and give their hands in marriage just like that.
''It is not permitted in Islam. That is why we said she must be taken back to her parents. To my utter surprise, since from the time we ordered that the girl be taken to her parents in Bayelsa through AIG Zone 1 office, we didn't hear anything about her. Just for us to now start hearing all kinds of stories that we are keeping her in our custody. This is injustice of the highest order."
''I am therefore giving an order that an investigation should immediately commence with the AIG office to know the position of things since that time we ordered for her repatriation to her parents. We cannot in anyway be more Muslims than the Prophet of Islam Muhammad, Peace Be Upon Him. We must therefore do things according to the set rules and regulations governing our religion."he said