National Under-23 coach Samson Siasia has disclosed that his team is not ready for the Brazil 2016 Olympics after his boys failed to live up to expectations at the Suwon Invitational tournament in South Korea.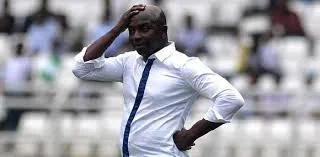 Nigeria came from a goal down to beat Honduras 3-1 in another game of the tournament yesterday. The team had lost 1-0 to hosts South Korea and 6-2 to Denmark.
Siasia stated that there is much work to be done if Nigeria were to meet the target of winning to the gold in Rio.
"The Suwon invitational tournament campaign was preparatory to helping us get ready for a successful outing in Rio.
"We know from this four-nation tournament that we are not really ready yet. It was an eye opener for us to see the players we have and their ability to perform on a high level like the Olympics,"Siasia said
He stated that changes would be made to the team in the course of time. "There will be changes of course to make the team a better one."
He added that the paucity of funds for their preparations was not helping matters.
" I have said enough about poor financial support because nothing good will come out of all this talk. No need to talk about it any more because it will never change we will continue to suffer till the Olympics are over."