Myanmar has sworn in its first civilian head of state in more than five decades.
Seventy-year-old Htin Kyaw took the oath of office Wednesday during a brief ceremony before a joint session of parliament, pledging loyalty "to the republic of the Union of Myanmar."
The country's two vice presidents, Myint Swe and Henry Van Tio, took the oath alongside Htin Kyaw.
Htin Kyaw's swearing in formally marks the end of total or partial military rule in Myanmar dating back to 1962.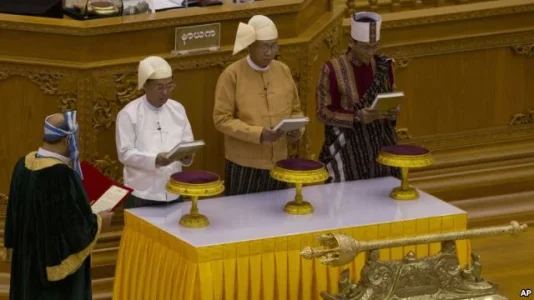 He succeeds Thein Sein, a former general who took power in 2011 when the junta turned over control to a quasi-civilian government and pushed through sweeping political and economic reforms.
In his inaugural speech, the new president vowed to change the current constitution so that it fully embraces democratic standards. The constitution drafted by the military before it turned over power guaranteed the military would hold 25 per cent of all parliamentary seats, plus the key ministerial posts of home affairs and defense.