The Nigerian Naira on Friday crashed by 7.93% against the United States Dollar at inter bank markets, highest record since the Central bank of Nigeria removed peg on the nation's currency in June 20, 2016.
The currency depreciated to all time low to 329 per United State dollar at the official market rate from N304.70 its recorded on Thursday and N305 its posted at last Friday trading rate.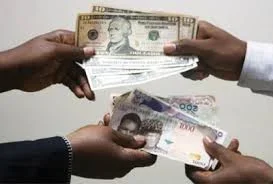 At the parallel market, the naira also depreciated to 470 to a dollar from 465 its posted the previous day.
The Pound Sterling and the Euro closed at N570 and 510 respectively.
The local currency, which had been relatively stable against the official market fell as fresh scarcity hit the forex markets.
Travelex and First Bank of Nigeria Limited commenced sale of foreign exchange to Bureau De Change operators some weeks ago following the approval by the Central Bank of Nigeria.
Forex traders, however, said last week that the scheme had failed to ease the biting dollar shortage in the country.
"What we get from Travelex is not sufficient," one trader said referring to demand in the market.
Last edited by a moderator: