Nigerian Naira on Monday extended gain against the three major currencies at the parallel market as Central Bank of Nigerian continues to save to the currency against US dollar.
At the Parallel market, the Naira gained 5 naira to 455 from 450 its closed last Friday against the dollar.
The currency also gained 15 naira to trade at 530 to thePound sterling and 7 naira to the Euro at 465 at a midday trading.
It maintained little depreciation by 0.08 per cent to 306.50 at the official market from 305.50 it has been pegged since June 2016.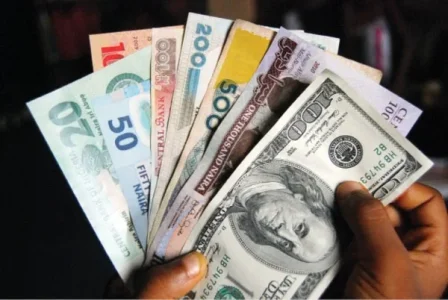 CBN spokesman Isaac Okorafor over the weekend assured that the Nigerian currency will continue to gain this week over dollar intervention at the Fx market.
Okorafor said the bank was committed to ensuring that authorised dealers got sufficient supply to meet the demands of authentic customers of banks.
He added that the bank had since February offered over one billion dollars to the interbank market, and expressed optimism that stability had been restored to the forex market.
He said individuals could easily access forex to address personal and business allowances.
CBN intervention in the interbank market over the past two months showed that the highest bid rate was N360 per dollars, while the lowest was N315 per dollar.