The Nigerian naira weakened 8.9% to 342.05 per US dollar, forty -six official days after the Central bank of Nigeria introduced the flexible exchange rate policy, according to data compiled by Bloomberg.
Meanwhile, the Nigerian Naira was on Wednesday quoted at 402 naira per dollar on the black market, 5 units weaker than 397 it traded at its previous session, traders say.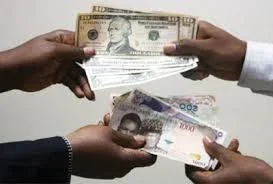 Analysts believed this might be connected to the Central Bank of Nigeria (CBN) hammer on eight banks from all foreign exchange transactions for breach of extant financial regulations
The Banks were barred for concealing and failing to remit the Nigerian National Petroleum Corporation (NNPC) dollar funds to the federal government's Treasury Single Account domiciled in the CBN as directed by the Presidency last year.