The All Progressives Congress, APC has issued a statement saying that Nasarawa lawmakers cannot dissolve the impeachment panel as such a move was unreasonable and unconstitutional; THIS DAY reported.
The statement issued by APC Publicity secretary, Lai Mohammed said, "Either way, they have boxed themselves into a tight corner. Holding an illegal sitting in Abuja with a fake mace is as ridiculous as the demand by the lawmakers for the dissolution of the panel set up by the chief judge.
"Section 188 (5) of the Constitution is clear: 'Within seven days of the passing of a motion under the foregoing provisions of this section, the chief judge of the state shall, at the request of the Speaker of the House of Assembly, appoint a panel of seven persons who in his opinion are of unquestionable integrity, not being members of any public service, legislative house or political party, to investigate the allegation as provided in this section'.
"It is important to point out to the desperate lawmakers that the key words in that section is that the chief judge must appoint persons who in his opinion (emphasis ours) are of unquestionable integrity. At this juncture, it is neither the opinion of the Speaker nor that of the legislators that counts, it is the opinion of the chief judge.
"Therefore, neither the Speaker, the lawmakers nor the chief judge can dissolve the panel at this stage, and none of them can stop the impeachment process. Once the chief judge has appointed the panel under section 188 (5), he becomes 'functus officio', that is he has no further powers on the matter. This is the situation of things at present and the lawmakers can only await the report of the panel.
"The Jonathan administration, for one, is always scoring a first in the area of impunity. This is the first time in the history of our democracy that a House of Assembly is seeking to dissolve the panel of seven judges it requested to be set up. This is unacceptable and it will not fly. What the assembly is suffering from now is called boomerang. Against sound advice, it went ahead to initiate the impeachment process. Well, it must now follow it to its logical conclusion. The chief judge cannot be made to dissolve the seven-man panel because he simply lacks the power to so do,'' the party said.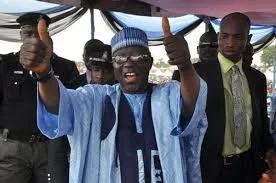 #ThisDay #PDP #APC #Nasarawa #Al-makura