In what may be a move of government functions that needs urgent attention and implementation just as
Nigeria's inflation hit new high at 18.72 per cent
, a another lawmaker is set to join his colleagues at the Abuja House in London to see ailing President Muhammadu Buhari.
The visitation is coming after the public debate on the 2017 budget at the National Assembly complex, Abuja. The 2017 budget is tagged "
Budget of Recovery and Growth"
with few controversies unlike the most padded 2016 budget.
The National Assembly leaders on Wednesday visited President Buhari at the Abuja London where he is awaiting medical tests and doctors instructions before returning home.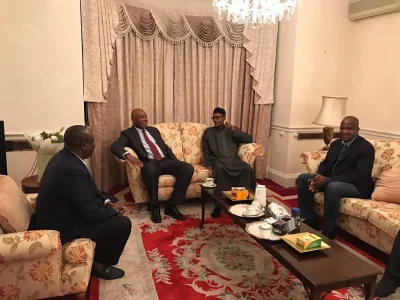 Sources told DailyTrust that many legislators were unaware of the visit as the trip was organized discreetly.
One source said even Speaker Dogara learnt about the trip late and had to cancel his Abuja engagements at the last minute.
Deputy Speaker Yusuf Lasun who would have travelled with them yesterday did not do so because of engagement with ECOWAS parliamentarians in Abuja.
But his spokesperson Wole Oladimeji told DailyTrust that the deputy speaker would travel to London today to join them.
Last edited by a moderator: