The Borno command of the Nigeria Drug Law Enforcement Agency (NDLEA) said it arrested 19 Internally Displaced Persons(IDPs) for alleged drug abuse and sale in camps.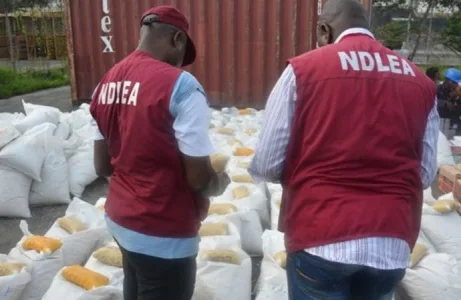 The Commandant of the NDLEA, Mr Ona Ogilegwu, a lawyer, stated this in an interview in Maiduguri.
He said the suspects were arrested on 1 February this year during a raid by men of the command.
Ogilegwu said the suspects were nabbed in Bakkasi and Mogolis IDPs camps in the Maiduguri metropolis.
He said that illicit substances like cannabis sativa, rophenol, and diazepam, benylin with codeine, suck and Die solution and several other substances, were seized from them.
"You will recall that the command had embarked a massive sensitisation campaign in almost all the IDPs camps here in Maiduguri in December, because of the growing increase of drug abuse among IDPs," he said.
He said the command had visited Dalori camp, Bakassi, Teachers village, Mogolis and Dikwa IDPs camps in the state capital to warn them against the dangers of illicit drug use.
" After we warned them, they still didn't listen. So we decided to use our powers to fish them out.
"It will interest you to know that none of the camps in the state capital is free from the nefarious drug activities. Allowing these activities to go unchecked will spell doom to the society", he said.
Those arrested with large quantity of drugs would be prosecuted while the ones with a negligible quantity would be counselled and released, Ogilegwu added.