Officers of the National Drug Law Enforcement Agency (NDLEA) have foiled attempts by two grandmothers to unlawfully export narcotic drugs to New York, United States and Medina, Saudi Arabia.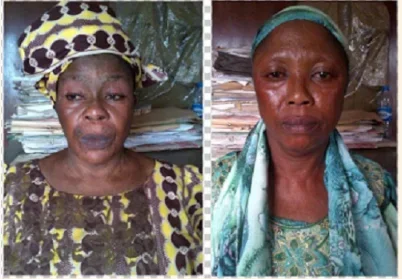 The suspects allegedly ingested one hundred and eight (108) wraps of substances that tested positive for heroin and cocaine during outward screening of passengers at the Murtala Mohammed International Airport (MMIA) Lagos.
The grandmothers blamed their involvement in drug trafficking on financial hardship.
According to the NDLEA, the preliminary investigation revealed that this was the first time a grandmother of 60 years will ingest a whopping eighty-three wraps of narcotics.
In addition, the second suspect was going to Saudi Arabia where drug trafficking attracts capital punishment.
Her timely arrest at the Lagos airport by the Nigerian anti-narcotics officers have saved her from the ordeals of painful and ignoble death in a foreign country.
NDLEA commander at the Lagos airport, Ahmadu Garba gave the names of the suspected drug traffickers as Adebayo Ebunoluwa Mercy, 60, found to have ingested eighty-three wraps of heroin weighing 1.105kg on her way to the United States and Amodu Ayisat Grace, 59, that ingested twenty-five (25) wraps of cocaine weighing 275 grammes on her way to Saudi Arabia.
According to Ahmadu, "Adebayo Ebunoluwa Mercy was arrested while boarding a Virgin Atlantic flight to New York while Amodu Ayisat Grace was caught trying to board an Ethiopian airline flight on her way to Medina, Saudi Arabia. The cases are under investigation".
Reacting, the NDLEA Chairman/Chief Executive, Colonel Muhammad Mustapha Abdallah (retd) said it was shocking and shameful for grandmothers to be involved in drug trafficking.
"This move by drug cartels to recruit grandmothers as mules is very disturbing, shocking and shameful. The moral emptiness exhibited by the suspects must be condemned by all. A situation where grandmothers have become a bad influence on their children and grandchildren is highly regrettable" Abdallah declared.