Suspended Senator, Ali Ndume on Sunday said he'll never apologize to Senate President, Bukola Saraki if that's what is required to lift his suspension.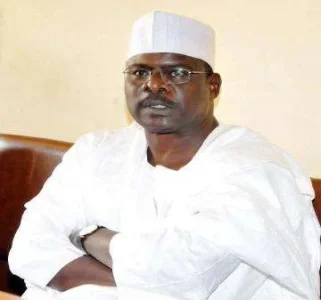 Addressing his constituents, the embattled Senator said, "My religion enjoins me to always stand on the path of truth even if I turn around and found that everyone has deserted me.
"Firstly, I know my trouble with them started because of my support for the policies and ideals of President Muhammadu Buhari. Secondly, when Ibrahim Magu's name was brought to the Senate as nominee for the Chairmanship of EFCC, some group in the senate insisted that he would not be cleared. And in my position as the then Senate Majority leader, it was incumbent upon me to support any nominee sent in by the Executive. Besides that, the same nominee is from my state, Borno; besides, he had committed no offence to be denied the senate clearance.
"Above all, the majority of Nigerians loved him because he is doing the job well even as an acting chairman of EFCC.
"Thirdly, when he was brought in for screening and it was not successful, I took courage to tell them that they were acting out of the Senate order.
"And lastly, my position on the allegation levelled on the Senate President as well as the issue of Senator Dino's certificate by a news medium was the final straw they needed to break the camel's back."
"I will not remain a Senator for the rest of my life; but for the time I serve as the representative of my people, I shall continue to do and tell the truth. I know if I had erred, I would not have been received here. But I enjoy the support of my people because they know my suspension was because I spoke the truth.
"After seeing the support that I enjoy from Nigerians, the same people that suspended me came to say I should tender an apology so that my suspension could be lifted. But I said no to that because I did not commit any offence in the first place," Ndume added.