The Central Bank Governor (CBN), Mr Godwin Emefiele, on Thursday assured Nigerians that the apex bank would focus on gradual reduction in interest rates under his leadership.
Emefiele gave the assurance at a news conference to outline his policy focus as the new #CBN Governor in #Abuja.
``We shall pursue a gradual reduction in interest rates.
``A comparison of selected macro-economic aggregates from some emerging market countries, including South Africa, Brazil, India, China, Turkey and Malaysia indicate that Nigeria has one of the highest Treasury Bill rates.
``Such high rates creates preserved incentives for commercial banks to simply buy virtually risk-free government bonds rather than lend to real sector,'' he said.
``The bank will also begin to include unemployment rates as one of the key variables considered for its monetary policy decisions.
``In the interim, we will continue to maintain a monetary policy stance, reflecting the liquidity conditions in the economy as well as the potential fiscal expansion in the run-up to the 2015 general elections,'' he said.
#GodwinEmefiele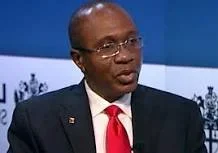 Last edited: