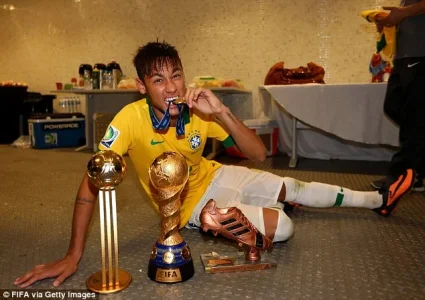 Brazil forward, Santos Neymar Jr has commended his team mates for turning around a bad start into ensuring that secured victory in their opening game of the 2014 World Cup against Croatia.
Scoring a brace, Neymar was named the man of the match after Marcelo had put Croatia ahead with an own goal in the eleventh minute.
Neymar's second goal came from what is arguably a controversial penalty after Fred had gone down in the box under seeming contact from Croatian defender, Dejan Lovren.
"I think I am happier than I ever dreamt, to start with a victory in the World Cup such as this.
"The whole team deserve praise for being able to keep calm and turn things around."
However Brazil's coach, Filipe Scolari, named Oscar his man of the match for being the best player of the night.
"Neymar got man of the match, but if there was a second award it should go to Oscar.
"Our statistics after the game shows he was the one who made the most tackles, and made lots of dribbles and crosses - he was our most creative player on the right.
"He was fantastic and that's the kind of player he is and I have always believed in him. Any doubts came from your side, the media. His level may have dropped but I never lost belief in him."
Brazil beat Croatia 3-1 to earn the first three points of the tournament.
Last edited: