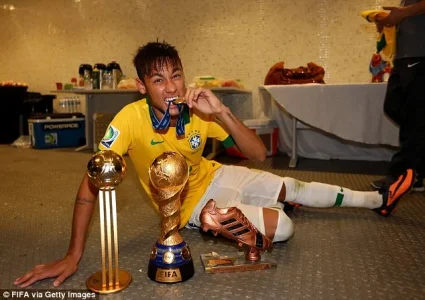 Brazil poster boy,Neymar has been ruled out of the World Cup after sustaining a broken bone in his back during their 2-1 quarterfinal victory over Colombia.
Neymar was stretchered off in the game after going down in pains in a challenge by defender Zuniga,clutching his back in the encounter.
The Barcelona player is now ruled out of the remaining tournament and is suspected to have fractured a vertebra in his spine.
Brazil coach Luiz Felipe Scolari said after the game: "Neymar was going to be hunted. For three matches that has been happening."
Their team doctor Rodrigo Lasmar told Brazil's SportTV: "Unfortunately, he's not going to be able to play. He is very, very sad.
"It's not serious in the sense that it doesn't need surgery, but he'll need to immobilise it to recover."
Brazil will miss the services of the 22-year old who has netted four goals so far in the competition.
The Selecao will play against Germany on Tuesday without the services of their two key players: Neymar and Thiago Silva who is suspended.