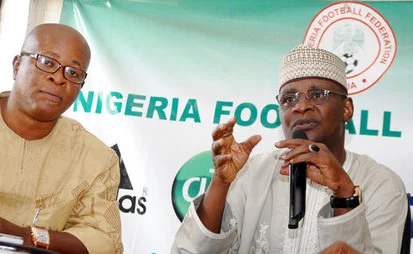 At an Extra-ordinary convention of the Nigeria Football Federation(NFF) General Assembly,the leadership of Aminu Maigari led executive board has been dissolved by the congress.
The NFF has been in turmoil in the past few days,starting on Thursday that a court ruling in Jos sacked all the executive members of the federation.
An emergency congress made up of the chairmen and secretaries of the Football Associations of the 36 states and the Federal Capital Territory, representatives of the leagues, coaches association, referees association and players' union. was immediately convened on Saturday at Bolingo Hotel & Towers, Abuja and they resolved on the following that:
1) The Congress expressed heartfelt appreciation to President Goodluck Ebele Jonathan, GCFR in his personal capacity, and the Federal Government in general, for total and unflinching support to the Nigeria Football Federation for the development of the Nigeria game.
2) Members of the NFF commended the players and officials of the Super Eagles for their impressive performance at the 2014 FIFA World Cup finals in Brazil.
3) Congress bemoaned the unfortunate incident of the international embarrassment caused the Nigeria nation at the 2014 FIFA World Cup, by failure of the Aminu Maigari –led NFF to fully and firmly resolve issues of finance with the Super Eagles ahead of the championship.
4) Congress accused the Maigari administration of shortchanging grassroots development by failure to regularly avail State Football Associations of annual grant, and abuse of NFF Statutes in its constitution of NFF Electoral Committee, by altering the list of persons approved by the Congress at the 2013 General Assembly in Warri, Delta State, and inaugurating a different Committee. A new NFF Electoral Committee and NFF Appeals Committee were constituted thus:
5) The Extra-Ordinary Congress unanimously endorsed the dissolution of the Aminu Maigari –led NFF Executive Committee, and immediate termination of the employment of all Management Staff.
6) The Congress also endorsed the dissolution of the Boards of the Nigeria National League, Nigeria Women League and the Nigeria Nationwide League. The Secretaries are to take over the running of the Leagues and report to the Acting General Secretary of NFF.
7) Congress approved the appointment of Mr. Lawrence Katken as Acting General Secretary of Nigeria Football Federation, pending the appointment of a substantive General Secretary.