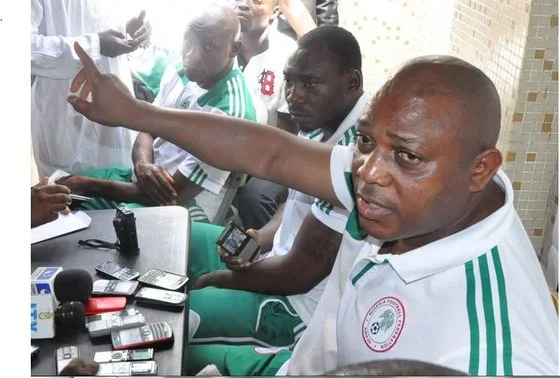 With no concrete headway being made in the contract renewal of Stephen Keshi as Super Eagles coach,the Nigeria Football Federation(NFF) is considering hiring a caretaker coach for the team.
Nigeria begins its 2015 Nations Cup qualifiers next month against Rwanda,and the NFF is trying to take proactive measures if they fail to reach an agreement in time with Keshi.
With Keshi's contract having expired after the World Cup in Brazil,the 52-year old wanted an improved offer if he were to remain as Super Eagles coach,which he is yet to agree on with the NFF.
Technical director of the national teams,Amodu Shaiubu is one of the coaches being considered to be given the job on a temporary basis to help the team in its first qualifiers.
Member of the NFF technical committee,Christain Chukwu believes that the job should be given to an interim coach before a final agreement is reached with Keshi.
"There can never be a vacuum in nature, if they hurry up with Keshi and finalise the deal quick enough, it is good and better.
"But if there is a bottleneck anywhere along the line, we need to bring in people who can handle the team in a temporary capacity till it is resolved. Some coaches can do the job at least till we play the first match.
"When the contract has then been finalised, the coach can step aside for Keshi to continue his job" Chukwu was quoted as saying on The Punch.
However a member of the three-man committee saddled with the responsibility of renewing Keshi's contract,Deji Tinubu said that they are on track with the deal.
"I want to say that we are on track with our negotiations and Keshi is also enthusiastic to coach the Super Eagles again and that is why we sent him our notice of intent last week and by Monday this week he responded positively.
"Very soon we will send him the proposal that will contain his salary. As we speak, all that you have been reading about salary are mere rumours. What we want everybody to realize is that you don't have to force negotiations we have to be careful so as to eliminate the defects of the earlier contract".
Nigeria has been drawn in Group A alongside: Rwanda, South Africa and Sudan,and will play their first game against the 'Amavubis' on September 5.