The executive board of the Nigeria Football Federation(NFF) on Tuesday lifted the bans placed on Victor Rumson Baribote and Olaleye Adepoju.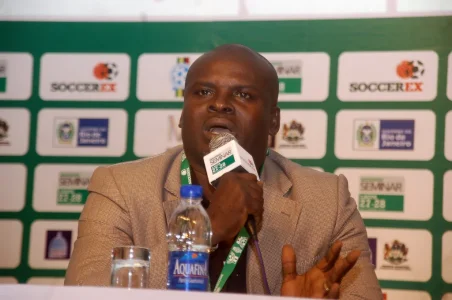 It was in agreement with the peace deal brokered by NFF to have the court case instituted against it by the wife of Baribote,who last month obtained an injunction against the football federation.
Both Baribote and Adepoju were placed on varying bans by the impeached president of the NFF,Aminu Maigari,however with the Bauchi State born football administrator no longer in play,the decision was today rescinded.
"After exhaustive deliberations, the Committee unanimously decided to lift bans of various lengths placed on the following members of Nigeria football family: Chief Rumson Baribote, Barr. Olaleye Adepoju, Mr. Jarrett Tenebe and Mr. Olajide Fashikun" the NFF said in a statement.
It was expected that former General Secretary of the NFF,Taiwo Ogunjobi would equally have his own ban lifted,but the NFF wanted confirmation that he was withdrawn the suit he filed against them at the Court of Arbitration for Sports(CAS)
"The ban on former Member of NFF Executive Committee, Chief Taiwo Ogunjobi will be lifted once communication is received from the Court of Arbitration for Sport that he has withdrawn his case. Other banned persons will have their cases reviewed as soon as they appear before the Committee."
All the previously banned NFF members,would once again resume their duties in their positions before the bans.
"Following from the above, Barr. Olaleye Adepoju will, with immediate effect, retake the Chairmanship of Oyo State Football Association and his seat on the Executive Committee of Nigeria Football Federation. Also, Mr. Chidi Ofor Okenwa retakes his seat as Chairman of Enugu State Football Association," the statement read.