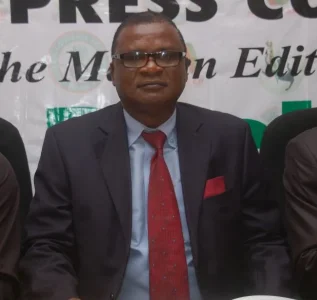 Acting president of the Nigeria Football Federation,Mike Okeke Umeh is adamant that the NFF is not distracted by the factions that have divided the country's football body.
Umeh who is to oversee the transition that will usher in new executives on August 26th maintained that the NFF is leaving nothing undone in preparing the respective national teams for their respective international matches.
There were concerns that the crisis which has engulfed the NFF following the impeachment of Aminu Maigari as NFF president,could affect the football body is successfully delivering on all their lined up activities.
The female under-20 team are in Canada for the Women's World Cup tournament and also the Super Eagles are billed to start their 2015 Nations Cup qualifiers in September.
Also Stephen Keshi's position as the Super Eagles coach is yet to be rectified,amongst some other problems engulfing the NFF.
Outlining how they have been coping with all the expectations,Umeh said: "The programmes and activities at hand and those that are close by, are enormous. But we have everything within focus and we are making adequate arrangements for each of them,"the former Enugu Rangers chairman said.
"I have been in communication with the team's camp and the Head Coach (Peter Dedevbo) has spoken of his delight at the great form of his players. I am confident we will have a great championship,"Umeh added.
He also added that the issue of Keshi has been on the 'to do list' of the NFF.
"I have arranged to meet with the technical crew of the Flying Eagles this week to know how they are faring in camp ahead of the clash with Lesotho, and we are also on the issue of Mr. Stephen Keshi continuing as Head Coach of Super Eagles."