President of the Nigeria Football Federation, NFF, Melvin Amaju Pinnick has threatened to quit his position if Nigeria does not hire a foreign coach for the Super Eagles.
Pinnick who watched the Eagles fail again to qualify for the 2017 African Cup of Nations coming up in Gabon promised to hire a foreign manager for the Eagles in two weeks time.
"There is nothing to worry about the payment of salary for the foreign manager. His wages is going to be taken care of by the private sector. We've concluded that and it will not cost Government anything", he said.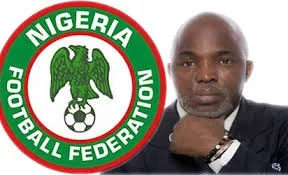 However, while addressing journalists in Abuja, the NFF President described as unfair calls for him to quit after Nigeria failed to qualify for next year's Nations Cup in Gabon.
Pinnick also tendered an unreserved apology to Nigerians for their failure to qualify for the African Nation's cup
- Vanguard