The Niger Delta Avengers (NDA) has announced a suspension of its ceasefire with the federal government, threatening to resume attacks on oil assets.
In a statement on Friday, Murdoch Agbinibo, the group's spokesman, said unlike the 2016 attacks, this would be "brutish, brutal and bloody".
He warned oil companies to stay away from the region.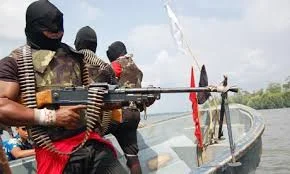 "The intelligence unit of the NDA has gathered from our sources in the Nigerian government that the operatives of the said Reformed Niger Delta Avengers are some fraudsters from the Niger Delta region working with government functionaries like the office of the director general of DSS, office of national security adviser and office of the minister of transport," the statement read.
"To the elders of the Niger Delta, PANDEF, we warned you against the antics of the Nigerian government yet you requested a chance to broker a new vision for our people; we told you and the rest of the world that the Nigerian government is only interested in our oil wells and not our well being yet you told us the signs are different this time around."