Militants operating in the Niger Delta on Tuesday may have again blown up a gas pipeline belonging to the Nigerian Agip Oil Company (NAOC) at Ogbembiri in Southern Ijaw local government area, Bayelsa State.
The fresh attack by gunmen, it was learnt by Thisday, occurred on the pipeline yesterday, which raised questions within the community as to why security agencies saddled with the responsibility of protecting oil installations had been unable to stop the frequent breaches.
During the latest attack, the gunmen reportedly stormed the community at about 9:00pm, traced the pipeline and ruptured it at a point it was previously repaired after the last attack.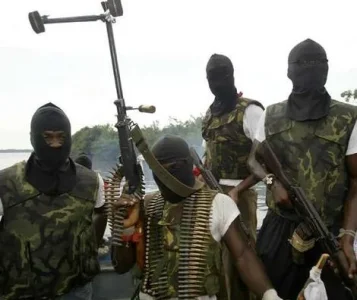 While some sources said dynamites were used to blow the pipeline, others said the gunmen deployed other mechanical devices to rupture the line along the axis.
The pipeline said to be a major gas supply facility in the country, reportedly crosses Tumor community in Bomadi, Delta State; Ogbuasiri in Ekeremor and Ogbembiri in Southern Ijaw, Bayelsa State.
Source:
Thisday