Nigerian naira opened trading at the parallel market on Thursday with massive gain against the British pound to 535 from 560 it closed on Wednesday.
The currency also opened flat against the US dollar and Euro at the parallel market.
See table for today's (02/03/2017) exchange rate of the Nigerian Naira against the Dollar, Pound and Euro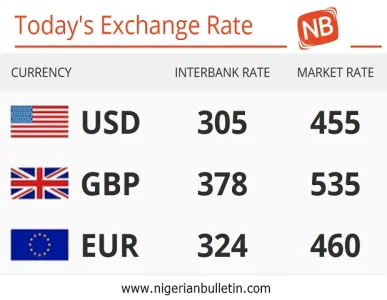 Related: MTN Records $200m Loss, First Ever In 22 Years
Meanwhile, South African telecoms giant MTN said Thursday that it made a $200m loss in 2016 – the company's first since 1994– after suffering a huge fine in Nigeria and currency challenges in key markets.
"MTN Group's financial results for 2016 reflect the most challenging year in the company's over 22-year history," MTN said in a statement.