Nigerian naira depreciated as forex market open trading on Monday to 395 to the greenback.
Table below shows today's (03/04/2017) exchange rate of the Nigerian Naira against the Dollar, Pound and Euro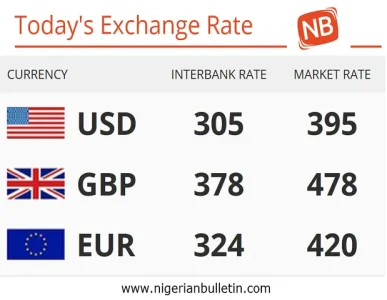 Meanwhile, the Central Bank of Nigeria on Sunday reiterated its determination to sustain the provision of foreign exchange with a view to ensuring liquidity in the market and enhance accessibility and affordability for genuine end users.
The apex bank's acting Director, Corporate Communications, Mr. Isaac Okorafor in a statement said the bank wants to disabuse the notion by market speculators that it wouldn't be able to sustain its forex intervention.
He said that the bank would again, early this week, inject more foreign exchange into the market, leading to a further weakening of the dollar.
"This is in addition to the further increase in the sale of dollars to the Bureau de change operators from 8,000 dollars to 10,000 dollars per week,'' he said