Economic and Financial Crimes Commission (EFCC) has declared not less than eighty-six suspects wanted for various crimes in the country.
Here are the 10 most wanted.
1.
Former governor of Jigawa state, Saminu Turaki
is wanted by EFCC in connection with a case of criminal conspiracy, stealing, money laundering and misappropriation of public funds to the tune of N36 Billion.
2.
Government Tompolo, the Ex-Delta Militant leader,
is wanted in a case of conspiracy, illegal diversion of the sum of N45.9 billion belonging to the Nigerian Maritime Administration and Safety Agency, NIMASA.
3.
Iliasu Olanrewaju Abdul-Rauf, the National Coordinator,
Federal Civil Service Staff with Disabilities Multipurpose Cooperative Society, Abuja, allegedly collected the sum of N1.7Billion under the guise of awarding contracts for the establishment of rehabilitation centers across the 36 states of the federation.
4.
Former Chairman of Pension Reform Task Team
(PRTT), Abdulrasheed Abdullahi Maina, for offenses bordering on procurement fraud and obtaining by false pretense. Maina is allegedly complicit in the over N2 billion Pensions Biometric Scam in the office of the Head of Civil Service of the Federation.
5.
The Managing Director of Carlisle Properties and Investment Limited, Kennedy Izuagbe,
is wanted in a case of Conspiracy and Money Laundering to the tune of over N3.6 billion. In the course of investigation, Izuagbe went underground and all efforts to reach him have proved abortive.
6.
Abdullahi Usman Adamu alias Dan China
is alleged to have received a part payment of $500,000 USD through his company Guroje Mining Company for the supply of 3000MT of Lead Ore to a Chinese Company, Shengjia International (HK) Limited. Three months later, Dan China has not supplied the goods and is presently at large.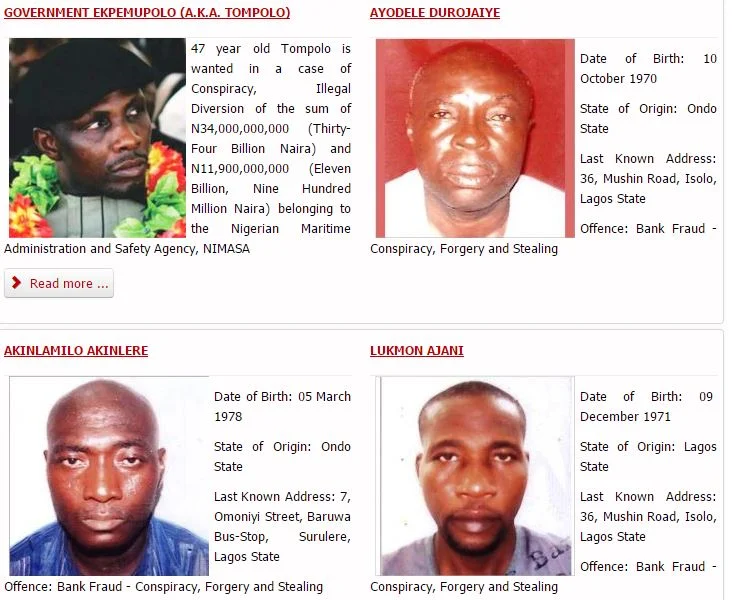 7.
Olabode Jacob O Obayomi, the owner of Standard Chartered Securities Limited
of 116-118, Lagos House, Central Area, Garki, Abuja is wanted in connection with a case of Criminal Conspiracy, Diversion of Public Funds and Breach of trust involving the unauthorized sale of over N251 million worth of stock belonging to Ebonyi State Government.
8.
Etim Ekpo Okima, managing director/ chief executive officer of Etisko BDC,
11, Abibu Oki Street, Lagos Island, Lagos, is wanted by the Economic and Financial Crimes Commission (EFCC) in a case of stealing and issuance of dud cheque.
9.
Osita Emmanuel Okereke, DG National Taskforce to Combat Illegal Importation of Goods,
Small Arms, Ammunitions and Light Weapon, (aka NATFORCE), is wanted by the Economic and Financial Crimes Commission (EFCC) in a case of Criminal Conspiracy and Impersonation. Okereke who was arrested with several incriminating items, including, bulletproof vests has jumped bail.
10.
Agbebi Samuel Adebanji of Hepa Global Energy Limited
, 33, Creek Road, Apapa, Lagos, whose photograph appears above, is wanted b for conspiracy and illegal dealing in Petroleum Product. He was on board vessel MT Good Success carrying 1,459 metric tonnes of Premium Motor Spirit, instead of the 350 metric tons of Automotive Gas Oil, AGO, it was licensed to carry.
Source:
EFCC
/SR