Here are few reasons why the price of sachet water otherwise known as 'Pure water' has increased across the states
1. The sachet which the water in contained in is imported
2. It comes as a plain roll and very large. the printers buy this plain roll and print the pure water company name on it.
3. Its in different sizes and measured in KG. 1Kg was N530 before, now its N1000.
4. Those printers use different chemicals and inks to print. These chemicals all has a hike in price.
5. They also hire labourers incurred other running costs to it.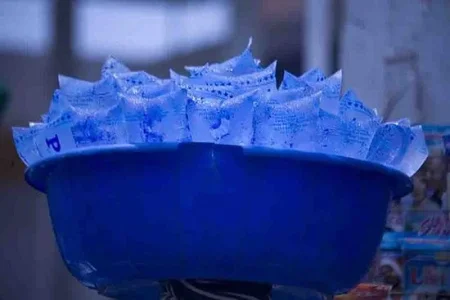 6. A pure water company buy this finished roll at N1000 instead of N530 and buy the packing bags at N5000 instead of N3200.
7. Most hawkers are usually charged dues like in Abia and Edo sachet hawker pays as much at N60 for tax..
8. The machines run on diesel.
9. Maintenance of service vehicles, pays rent.
10. Maintenance of machines.
11. Buy fuel for service vehicles.
12. Buy chemical for treatment of product.
13. Retailers also tend to pay for lighting and ice blocks.
Majority of the company that produce Low density Polyethylene (LDPE) such as Eleme petrochemical industry in Rivers state and Lagos state have shut down due to high running cost and those that are importing this product are in shortage of Forex.
- Nairaland